Written by: Heatherwick Studio
Photography: Hufton + Crow
Maggie's, a charity that provides support for people affected by cancer, commissioned Heatherwick Studio to create its new centre on the campus of St James's University Hospital in Leeds.
The centre needed to be a welcoming place for visitors that would offer a respite from the clinical environment of the hospital. It would include a library, counselling rooms and informal seating areas.
Set in the midst of medical buildings, the site was one of few green spaces left on the campus. The studio decided to preserve and accentuate this space by creating the structure out of the garden itself, raising up the planted surface.
The centre is expressed as a grouping of large-scale planters of varying sizes. The base of each planter encloses a distinct private place for visitors to meet or spend time by themselves while the spaces between offer relaxed and approachable social spaces for group conversation and activities.
The rooftop garden is inspired by Yorkshire woodlands and features native English species of plants, alongside areas of evergreen to provide warmth in the winter months. Inspired by Maggie Keswick Jencks' love of gardening, visitors are encouraged to participate in the care of the 23,000 bulbs and 17,000 plants on site.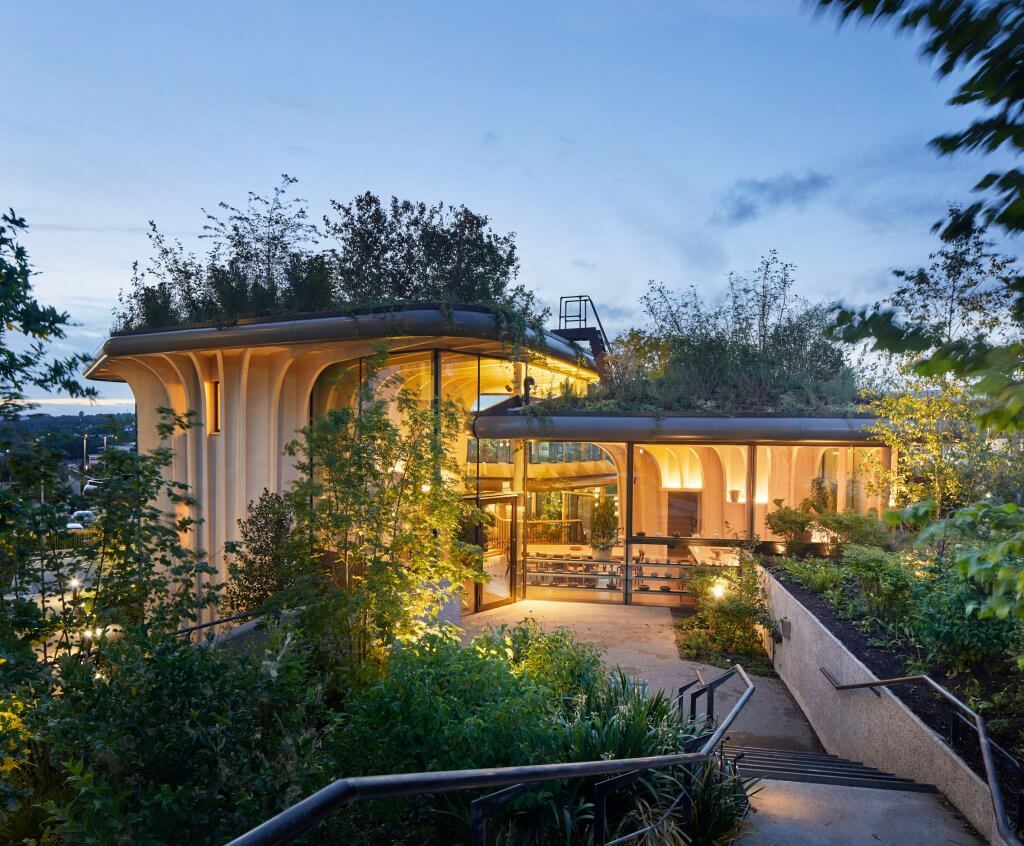 "Our aim was to build a home for people affected by cancer that would be soulful and welcoming, unlike other typical clinical environments," said Thomas Heatherwick.
"By only using natural, sustainable materials and immersing the building in thousands of plants, there was a chance for us to make an extraordinary environment capable of inspiring visitors with hope and perseverance during their difficult health journeys."
Drawing upon the philosophy of Maggie's and the belief that great design can help people feel better, Maggie's Leeds uses several 'healthy' materials and energy-saving techniques. The building's structure is built from a prefabricated and sustainably-sourced spruce timber system. Porous materials such as lime plaster help to maintain the internal humidity of the naturally- ventilated building, which has been achieved through careful consideration of the building's form and orientation.