Written by: VISUALHOUSE
Photography: VISUALHOUSE
Are you ready to embark on a journey that blends architecture, culture, and sustainability? The Serpentine Pavilion 2023, designed by the visionary architect Lina Ghotmeh, invites you to do just that. This year's exhibit, titled "À table," beckons us to sit together at the table, share a meal, and engage in meaningful dialogue.
Inspired by her Mediterranean heritage and the rich tapestry of discussions that take place around tables worldwide, Lina Ghotmeh has created a space that fosters connections. The heart of the Pavilion features a circular table that encircles the interior, inviting visitors to convene and celebrate exchanges that nurture new relationships. It's a powerful reminder that food is not just sustenance but an expression of care, a vehicle for shared moments, and a catalyst for conversations that bring us closer.
Ghotmeh's design also pays homage to the history of the Serpentine South building, once a teahouse designed by James Grey West. This building, which later became an art gallery, used to extend its seating area onto the lawn during the summer months, now occupied by the Pavilion. Drawing from this heritage, the Pavilion's café menu features Mediterranean-inspired dishes made with locally sourced, seasonal ingredients.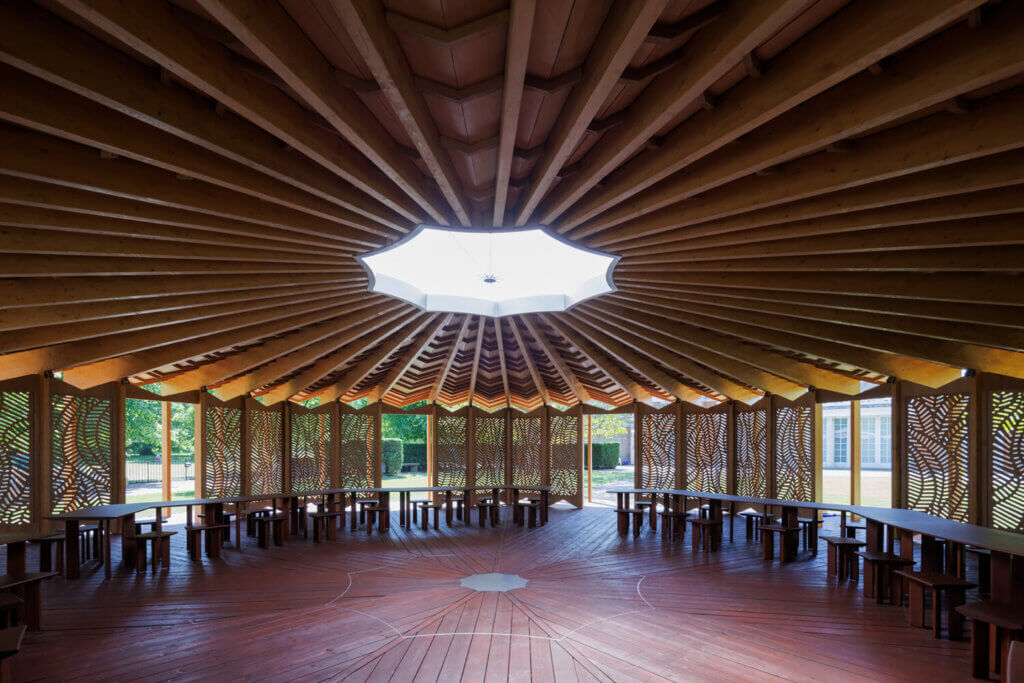 All images: Serpentine Pavilion 2023 designed by Lina Ghotmeh. © Lina Ghotmeh — Architecture. Photo: Iwan Baan, Courtesy: Serpentine.
But the Serpentine Pavilion 2023 doesn't stop at visual and culinary delights. Renowned artist and composer Tarek Atoui has crafted a mesmerizing soundscape for the Pavilion. This auditory journey, based on Lina Ghotmeh's sketches, architectural materials, and Atoui's ongoing research on classical and rural Arab music, is a sensory experience like no other. You can even listen to "Dawn chorus" by Jad and Tarek Atoui, featuring Berber chants by the choir of Othman Azolid from Ouarzazat, Morocco, on Serpentine's guide on Bloomberg Connects.
As a parting note, it's essential to mark your calendars – the Serpentine Pavilion 2023 will only be open until October 29th. Don't miss this unique opportunity to immerse yourself in a world of culture, sustainability, and shared experiences.
For new project inquiries, please email [email protected] with your project details. We look forward to hearing from you.