Written by: VISUALHOUSE
Photography: VISUALHOUSE
530 Broadway, originally built close to the turn of the 20th century, is a one-of-a-kind property made up of three contiguous structures on SoHo's most desirable corner of Broadway and Spring.
The 198,000-square-foot property is a symbol of SoHo's Cast Iron district, with architectural characteristics that are unique to the area. Each floor is inundated with natural light and air, with an average floorplate of 17,000 square feet. At the time of construction SoHo was best known as an industrial district, making the design of 530 Broadway revolutionary for its time; now, it's ideal for companies seeking a downtown New York City atmosphere in one of the most sought-after neighborhoods.
SHVO, purchased 530 Broadway in March 2020, with a vision to bring the artistic essence of the area with purposeful design and unique art. Snarkitecture was tasked with reimagining the foyer by incorporating unexpected and memorable elements, such as a site-specific art display created by famed New York-based contemporary artist Daniel Arsham. The building's elaborate cast-iron facade and distinctive architectural characteristics are highlighted by L'Observatoire International's acclaimed lighting design.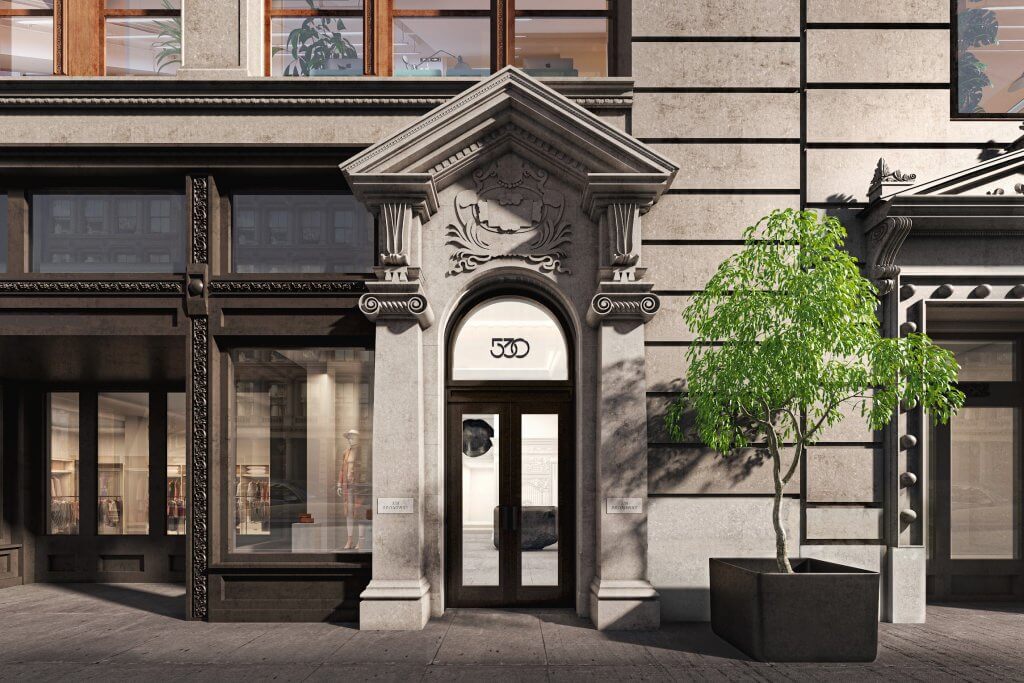 Working alongside SHVO and Snarkitecture VISUALHOUSE directed the creation of several renderings to bring this iconic property to life. There is no better example of this than the work created for the entrance way. Our artists were able to meticulously follow the vision of blending art and architecture, making it difficult to decide which image below is the rendering and which is the photograph.
For new project inquiries, please email [email protected] with your project details. We look forward to hearing from you.